Web Application & Database Development, Responsive Website Design, Programming & SEO Services
NOTICE: Effective Sept. 1st 2022 I am officially retired. I have done this line of work since 2000 and it's just time to end it. Unless you want to throw STUPID amounts of money at me to le me help you make something happen I am unavailable. I thank all my past clients and wish them well but I am coming up on 65 and it's time for me to move on, thanks to all for your past support!
Welcome
David C. Dalton's web application development practice addresses a wide range of business needs. Whether you are a small business looking to get yourself onto the web or a large organization or government agency that needs to manage your data in a more efficient manner I can help. My goal is to build customized web-based applications that are both innovative and highly reliable, all at a reasonable price.

Most Recent Project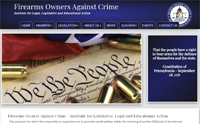 This is an offshoot of the original Firearms Owners Against Crime Organization that has all the capabilities of the original organization, full member control panel and full admin panel that allows admins to control every aspect of the membership, website and legislation that is pulled from outside sources.
The site is fully responsive HTML 5 over a PHP / Postgresql engine that includes an admin area and client area that allow for the secure transfer of files to the service and return transcribed files back to the clients.
Realistic Pricing and Goals
Each project is different, each with it's own unique set of circumstances, problems and goals. My pricing takes into consideration these factors and each job is priced accordingly. While I am not the 'discount house' of web development I feel my prices reflect my capabilities and my loyalty to your business while keeping your budget limitations in mind. You will never have to pay more if something isn't quite working right either, my work is 100% guaranteed and I stand behind that guarantee with my name and reputation. For over 12 years my clients have been comfortable with the knowledge that I am there for them when they need me.
Is It 'Just Me'?
Several people with larger projects have asked 'is it just you that does all the work?'. The answer is twofold, on small to mid-sized projects I may be the only one working on it but on larger projects I have ability to bring in some of the finest people in their fields in a moments notice. I am privileged to be friends and have a solid professional relationship with some of the finest graphic artists, programmers, database developers and content writers in the United States. Each and every one of them have shown me they are the 'best of the best' so if the need arises you can rest assured everyone working on your project is a 'top gun' in their field.